If any of y'all Yankees own a white people blues bar and you're looking for some cheap but authentic blues food to serve a crowd of drunks at a blues bash, well, it don't get no cheaper or more authentic than pork neckbones 'n' rice. This recipe came straight from Carolina Henderson, the cook and old blues song expert at ZZ's juke joint in Ferriday, Louisiana.

For 40 or 50 drunk Yankees or 20 drunk Texans, I'd double this recipe and cook it in a 10 quart Dutch oven. I'd also serve a 5 quart Dutch oven filled with canned turnip greens cooked with a fist-sized chunk of salt pork bacon, "salt meat," us Deltonians call it. On the side have about 6 or 8 big skillets of cornbread. And pepper sauce for the greens. And buttermilk.

Here's what you'll need:
about 2½ pounds of fresh pork neckbones
If your supermarket doesn't carry fresh pork neckbones, it means that the po' folks don't shop there. Change supermarkets or move to a better neighborhood.
½ cup cooking oil
2 cups rice
1 Tbsp garlic powder
2 tsps salt
1 tsp black pepper
6 cups of water
1 onion, sliced
½ bunch of chopped green onions, about 4

Directions:
Use the ½ cup of cooking oil and brown the neckbones, turning them frequently.

When the neckbones are browned, add the chopped green onion, the sliced onion and the spices.

Add water and bring to boil.

Cover pot with tight-fitting lid and simmer on low for 1½ hours. Stir once or twice.

After 1½ hours of simmering, add rice. Skim fat if desired.

Simmer 15 more minutes and turn off fire. Stir once.

Wait 15 more minutes and eat.




Ready to add water




2 hours later: ready to eat!
Pork neckbones contain more meat than you'd think. Pork neckbones 'n' rice taste best served with cornbread and either turnip greens or black-eyed peas. If you can't get fresh greens where you live, use canned w/diced turnips. Throw in a slice of bacon for seasoning.
Carolina's recipe actually calls for less water and cooking the rice separately. She cooks the rice "'til it's almost done," then washes it to remove the starch. She then adds it to the pot where it finishes cooking. She also cooks a variation of this recipe that she calls "pork 'n' gravy."
Here's how Carolina cooks pork 'n' gravy:
Cook rice separately and completely.

Thicken liquid in pot with "some" flour.

Add a "dash" of Kitchen Bouquet® Browning & Seasoning Sauce to "give the gravy a dark color."

Serve over rice.
Pork neckbones 'n' rice is cheap, as you can see from this analysis of my total costs:
2.56 lbs neckbones @ .49¢ per lb. .
½ cup oil . . . . . . . . . . . . . . . . . . . . .
1 Tbsp garlic powder . . . . . . . . . . .
salt & pepper . . . . . . . . . . . . . . . . .
2 cups of rice. . . . . . . . . . . . . . . . . .
yellow & green onions. . . . . . . . . .





$1.25
.11
.05
.01
.50
.40
-------
$2.32
| | | |
| --- | --- | --- |
| | If anyone knows an honest way to feed 6 to 8 people for less than $2.32 please inform me ASAP. | |
In this photo that's Carolina on the left and Nea Zim on the right. Nea came all the way from Los Angeles to Ferriday just so she could spend a Sunday afternoon in ZZ's juke joint. Behind these 2 fine lookin' women you can see the door to the kitchen. In the upper left you can see the edge of the serving window. The sign on the wall informs us that a pork chop sandwich costs $2.50. Wonder how much they cost in New York City?
LANGUAGE PROBLEMS: We all laughed and joked and had a hi-ho good time while the juke box played the blues. Carolina and I started talking about cooking; hence this recipe. Nea leaned over, and, above the music, loudly asked, "WHAT ARE YOU AND CAROLINA TALKING ABOUT COOKING? NECKBONES AND WHAT?"
I yelled back, "NECKBONES AND RICE!"
"YUCK! I CAN'T BELIEVE YOU EAT RATS!"
"NOT RATS. RICE!"
"OH. WHAT'S RASS?"
That floored me. I thought everybody ate rice. "YOU EAT IT! YOU PUT GRAVY ON IT!"
"OH!" She looked pensive for a moment. Then she yelled, "SPELL IT!"
"R-I-C-E! RICE!"
"OH! I THOUGHT YOU SAID RASS!"
"I DID!"
Along about that time the jukebox stopped. A 40ish guy sitting at the bar behind ZZ and Nea had downed too many tall-boy Buds. He looked over at Carolina and said to me, "Pork 'n' gravy! That old woman can cook some mighty fine pork 'n' gravy."
"Old woman!" Carolina exclaimed. "Boy, who you callin' an old woman?"
"Mighty fine," the guy continued. "I'm tellin' you that old woman can cook some mighty fine pork 'n' gravy."
"Boy," Carolina continued, "I'm fixin' to come over there an' put a knot on your head!"
Well, I'll end by saying that the guy quickly realized who put the pork in his gravy and shut his mouth. And on another Sunday afternoon at ZZ's, a wonderful time was had by all.
Update 8-01-11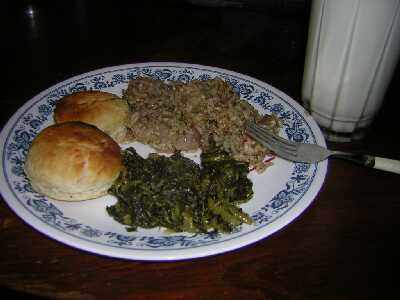 Ten years later just the neckbones cost $2.41. I cooked them exactly the same as in the recipe above but with three exceptions:
I added 1/2 of a chopped red bell pepper.

I drained and de-boned the neckbones.

I measured the drained liquid and added a little water to make the volume = exactly the 2 cups of liquid needed for 1 cup of rice.
Using de-boned neckbone meat + the exact volume of liquid needed for 1 cup of rice + the red bell pepper made this the best batch of neckbones & rice I've ever cooked. The de-boning also eliminated gristle and bone fragments, etc.

The batch you see here was served with two cathead biscuits, a big ol' dollop of turnip greens with a double dash of homemade pepper sauce, and a glass of ice cold buttermilk.

If I owned a soul food restaurant I'd serve pork neckbones & rice prepared exactly like this. However, I'd leave the meat on some of the neck bones and include one with each serving. For color, I'd place a raw stalk or two of green onion across the rice.

Side dishes would be turnip or collard greens with pepper sauce and/or a baked sweet potato and/or candied yams or banana pudding. You'd have a choice of homemade biscuits with real butter and/or sugared or sugarless cornbread, also with real butter. For drinks, you'd have a choice of sweetened or unsweetened strong tea, ice cold milk or buttermilk and several choices of ice cold dry white wines. My favorite chilled wine, Mouton Cadet Rosé, would also compliment this wonderful meal.